Il Sole 24 Ore has published the classification of 2023 Export Champions, an initiative aimed at Italian companies of various sizes and in various sectors which stand out for their high levels of exports.
Having examined more than 9,000 companies, Il Sole 24 Ore lists the top 250.
Businesses operating in a range of sectors including engineering, industrial production and agro-food, with turnover of between 190 and 1.63 million euros as well as a high degree of specialisation, export Made in Italy excellence all over the world.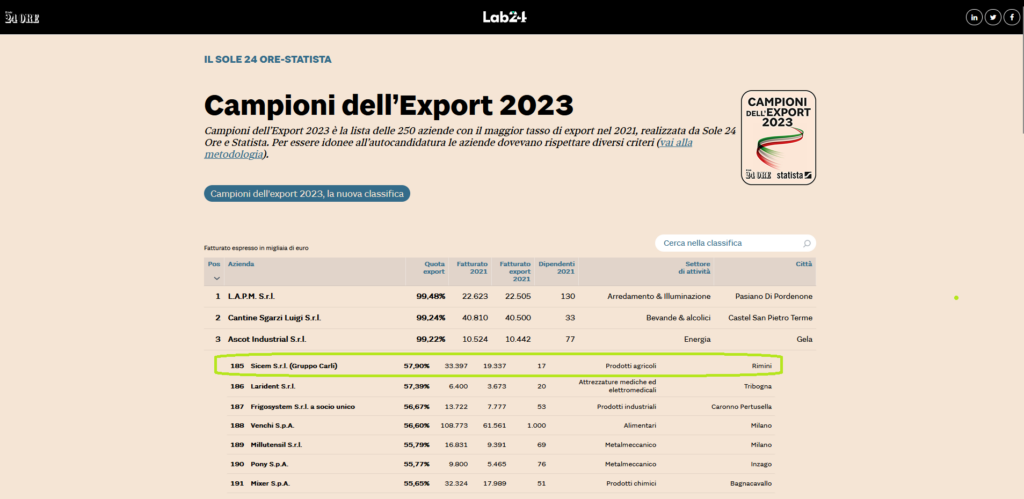 Sicem Srl, the commercial company of Gruppo Carli, was placed 185th in the ranking, with a turnover of 33.39 million euros and 57.9% of exports in 2021. A truly gratifying result for Gruppo Carli, the only company in the agricultural sector to be listed. Last year, over 200,000 tonnes of alfalfa, other fodders and cereals grown and processed solely in Italy arrived at the animal feed factories, barns and stables of 80 countries around the world.

At its 5 production facilities in Emilia Romagna and Lazio, Gruppo Carli processes fodder and cereals grown on more than 35,000 hectares, employing over 250 workers.