GRUPPO CARLI
Roots set in the past and sights set on the future
"Life has taught us that the family is "important" and when love, respect and solidarity exist in the family, everyone's energies are multiplied and can become creative,productive and positive for the company.
Because the biggest satisfactions are the ones we share."

Alfredo Carli
About us
Gruppo Carli is a family-run business farming, processing and selling quality forage since 1960.
With 200 employees and 4000 farms, more than 20,000 people are involved with the Group. Human factor is really important for Gruppo Carli and total employee involvement is company's real strength.
The protection of health and safety of the workplace has always been the focus of the Gruppo Carli as a key element to ensure the integrity of its employees.
Group companies produce, for three generations, feed materials for animal nutrition. These feed materials, composed primarily of alfalfa and forage, in bales or pellets, are the forage basis essential for all ruminants (sheep, goats, buffalo and cattle) and grazing livestock (horses, camels and rabbits).
Gruppo Carli is leader in Italy in alfalfa and dehydrated forages production.
Our yearly production capacity is approximately 300.000 tons of product.
Gruppo Carli products are known and appreciated throughout the world: industry experience, business sense and innovative technologies have lead to significant domestic and international market expansion.
Core markets are Europe and non-EU markets like the Middle East, North Africa and the Far East.
CARLI: A FAMILY, A HISTORY
In the Sixties, the brothers Andrea, Ernesto and Alfredo set up a family-run fodder pressing and milling business.
The tradition of a noble and ancient profession like farming was completed by a desire to grow and innovate on the part of a particularly receptive second generation.
Today, the Group companies are run by members of the three generations of the Carli family: the diverse experiences and aptitudes are an irreplaceable resource that enhances the Group and makes it one of a kind.
Gruppo Carli consists of 20 well organized companies with as their core business the production of animal feed.
The Group's pyramid structure comprises crop-growing and animal-raising farms, raw-material processing plants, trading companies operating at national and international level, logistic, technical and administrative service companies, and the management of plants for the production of renewable energies.
1960
The brothers Andrea, Ernesto and Alfredo set up a small business dealing in agricultural feedstuffs.
1965
Construction of the first facility in Torello, Rimini.
1972
Takeover of the production plant in Ponzano Romano, Roma.
1982
Installation of the first dehydration plant in Torello di San Leo, Rimini.
1985
Takeover of the production plant in Migliaro, Ferrara.
1986
Takeover of the production plant in Filo di Argenta, Ferrara.
1997
Takeover of the ex sugar fabric in Mezzano, Ravenna.
2006
The installation of solar panels on all Gruppo Carli facilities' roofs starts at the Mezzano (Ravenna) plant.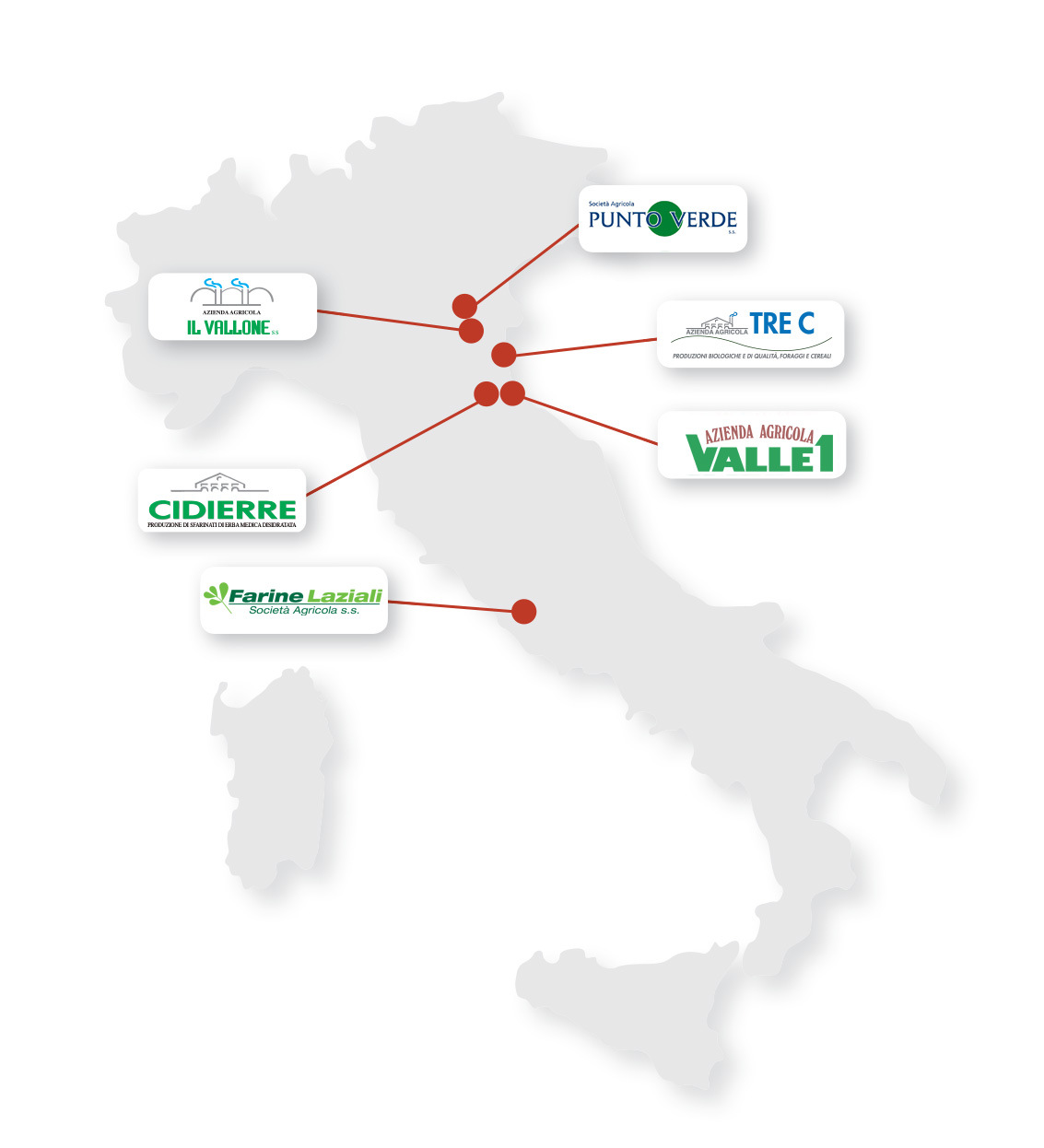 Numerous facilitiies with a single goal: quality
Every year, Gruppo Carli sells around 350,000 tonnes of products, grown on over 40,000 hectares of land by the group's farm and local farmers. These products are processed in 5 facilities using modern machinery designed to maintain the natural properties of the raw materials through to the finished as well.
Each facility can count on large ventilated warehouses, where the products are stored and which make it possible to ensure constant supplies throughout the year.
The facilities are located in central/northern Italy, close to ports and the main road network, thus enjoying a competitive edge in terms of logistics.
TORELLO – SAN LEO (RN) – ITALIA
Farine Laziali Soc. Agricola s.s.
PONZANO ROMANO (RM) – ITALIA
Società Agricola Tre C s.s.
MEZZANO (RA) – ITALIA
Il Vallone s.s.
FILO DI ARGENTA (FE)- ITALIA
Punto Verde s.s.
MIGLIARO (FE) – ITALIA
Az. Ag. Valle 1
FRAZ. TORELLO – SAN LEO (RN)- ITALIA
Sicem S.r.l.
TORELLO – SAN LEO (RN)- ITALIA
OUR TRACKED,CERTIFIED AND CONTROLLED SUPPLY CHAIN
To guarantee the quality of the fodder and cereals, each production phase undergoes a stringent control procedure.
The in-house test lab makes daily analytical checks, from raw materials to finished product, thus ensuring traceability from the fields to shed.
National and international external certification institutes further ensure product quality by means of periodical crop, poroduct and stored-product controls.
Gruppo Carli takes part in research and development projects with universities and trade associations, to promote the knowledge and aware use of fodder of Italian origin.